Tony Dungy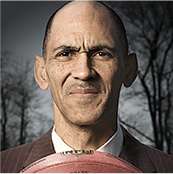 Tony has a brilliant resume. He played for 3 NFL teams after playing for and graduating from the University of Minnesota. He has coached in the NFL since 1984 and was head coach for the Tampa Bay Buccaneers and Indianapolis Colts. The Vince Lombardi trophy finally came Dungy's way on February 4, 2007, when the Colts defeated the Chicago Bears in Super Bowl XLI, 29-17, in Miami. The victory made Dungy the first African American to coach a Super Bowl–winning club. It also made him just the third person in NFL history to win a title as a player and as a head coach.
Tony is a public speaker, an author, a great coach and a brilliant analyst. He has written numerous valuable books and more importantly has lived a winning life.
Tony and his longtime wife, Lauren, are the parents of seven children. In December 2005, tragedy struck the Dungy family when one of their oldest sons, James, was found dead at his Tampa area apartment. The death was later ruled a suicide.
Since stepping down as head coach of the Colts, Dungy has worked as an analyst for NBC's "Football Night in America." In addition, Dungy, a committed Christian, has remained active in a number of charitable causes, including Big Brothers and Big Sisters and the Prison Crusade Ministry.
BACK TO BLOG