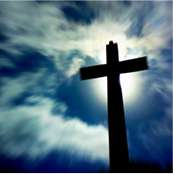 John 3:16 - For God so loved the world that He gave his only begotten son, that whosoever believes in him will not perish but have everlasting life.
The Great Commission - Matthew 28:16-20King James Version (KJV)
16 Then the eleven disciples went away into Galilee, into a mountain where Jesus had appointed them.
17 And when they saw him, they worshipped him: but some doubted.
18 And Jesus came and spake unto them, saying, All power is given unto me in heaven and in earth.
19 Go ye therefore, and teach all nations, baptizing them in the name of the Father, and of the Son, and of the Holy Ghost:
20 Teaching them to observe all things whatsoever I have commanded you: and, lo, I am with you always, even unto the end of the world. Amen.
The Great Commandment - Matthew 22:36-40King James Version (KJV)
36 Master, which is the great commandment in the law?
37 Jesus said unto him, Thou shalt love the Lord thy God with all thy heart, and with all thy soul, and with all thy mind.
38 This is the first and great commandment.
39 And the second is like unto it, Thou shalt love thy neighbour as thyself.
40 On these two commandments hang all the law and the prophets.
Thank you Jesus!