Tom Deedrick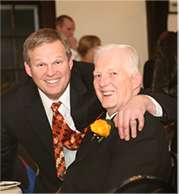 Thomas Duane Deedrick lived a life of leadership. Tom married Lorraine Hermann and lived in Rochester, MN while raising a family. Tom served people all of his life - at home he served his wife and kids with his time and attention; at church he served as Elder/Deacon, AWANA Leader, Sunday School Superintendent and Greeter; at work he served his employees as a servant leader and always went the extra mile to make the business better.
Tom was a cofounder of Faith Christian School and KFSI Christian Radio Station (FM 92.9 in Rochester, MN). He helped build a church building and a school/gymnasium building. Tom had a special place in his heart for special needs children and he worked at Ability Building Center in Rochester, MN for a number of years.
Tom loved to cook, golf and paint. Please ask me about my Father anytime!
BACK TO BLOG